As copper, brass, and roses have had symbolic meanings, I thought I would post this.
I have just listed an single Copper Rose with 3 Brass Leaves.
It is a little smaller than the ones that I make that fit in a vase. This one can lay on a table or can be hung on a wall. It comes with a white gift box, gift card and story card explaining how I made it.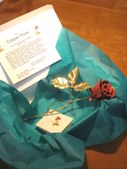 The bidding starts at $15. at ArtBy Us